ABOUT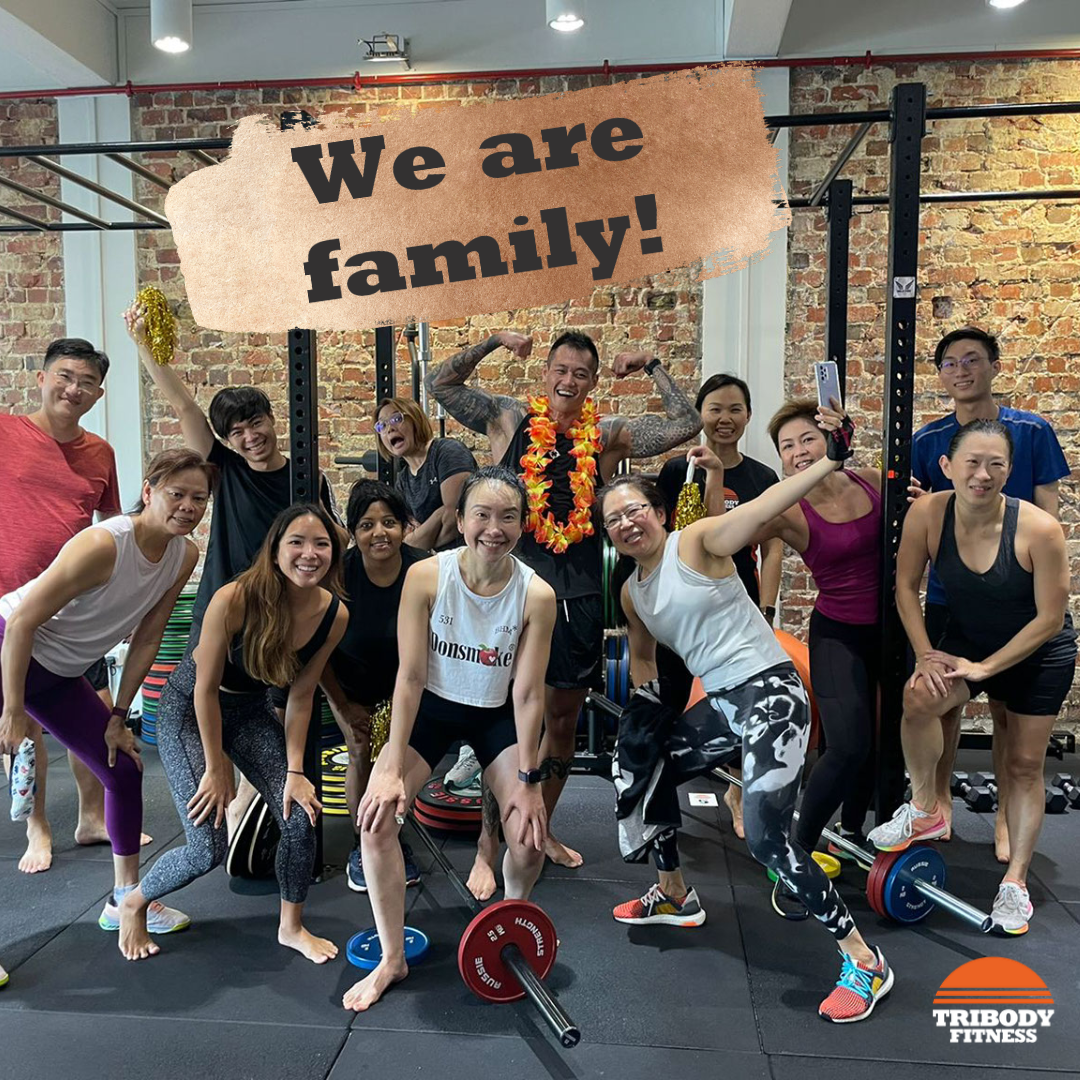 Because…
… your body is its own reward.
Toned
Flexible
Power with control
Our programmes are for professionals… designed by professionals.
Meet our coaches!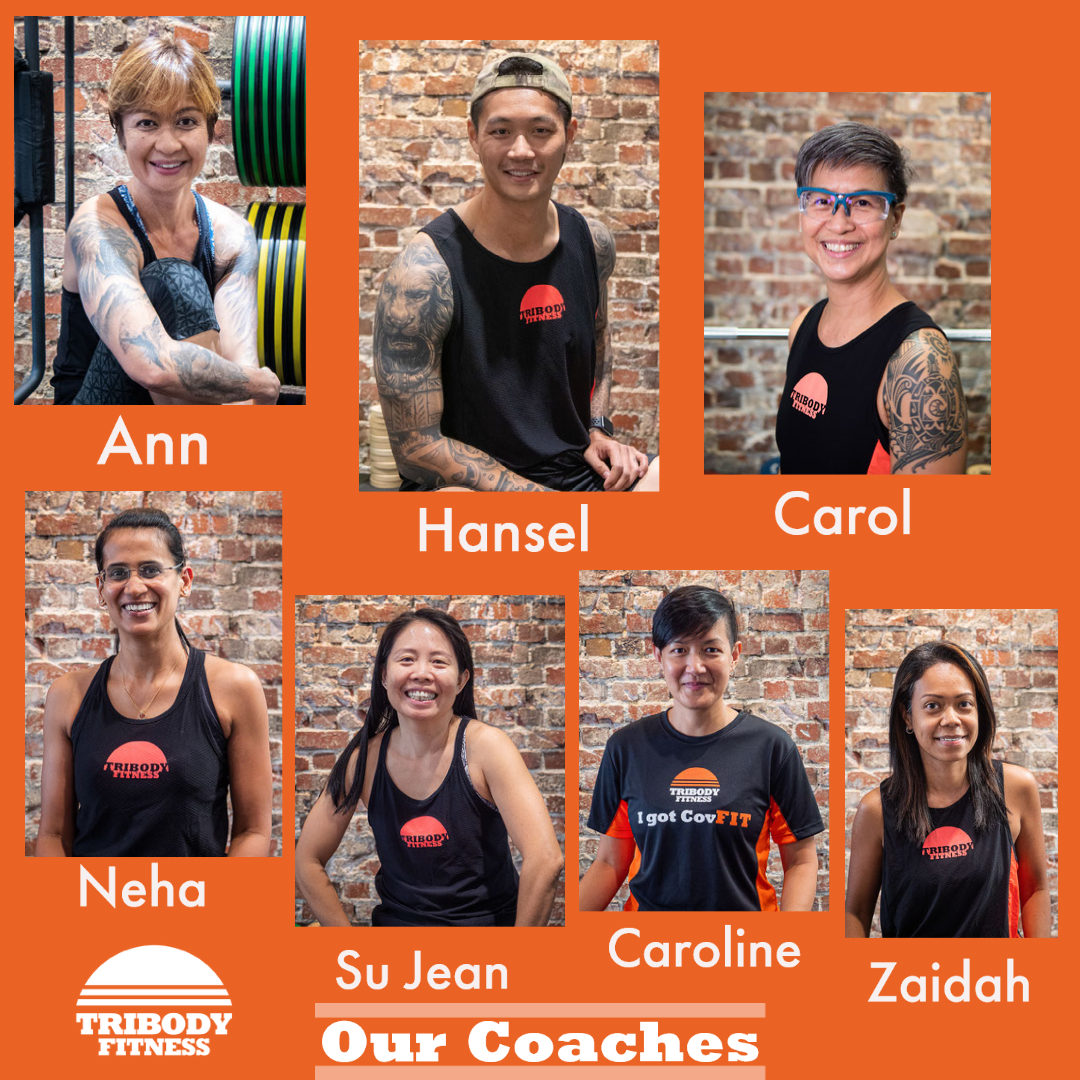 They come from different ages, backgrounds, and genders. They understand where you're coming from. All have professional internationally recognized certifications – either ACE or NASM (US). And they all have their unique specialties and experience. Some highlights:
Coach Ann has 2 decades worth of industry experience including fitness studios and chiropractics, a diploma in sports psychology, and specialty certifications ranging from kettlebells to movement training.
Coach Carol was an office person and academic. She started triathlons aged 51 before taking her fitness certification.
Coach Hansel is a freshly minted Bachelor in Exercise Science. He topped his class.
Co-founder Markus is a certified Sports Nutrition Specialist (ISSN – US).
What do I need to do to train at Tribody Fitness?
Choose the workout day and time that suits you, either strength or cardio, book your slot on the app, and show up. We custom designed optimal training programmes that will give you results:
You will be doing 60 minute circuit training in small group classes, including appropriate warm-ups and cool-downs.
We have no binding contract periods. The unlimited class plans either renew monthly or weekly and can be cancelled as such.
Traveler on a short stop in Singapore? Use the non-renewing 9-day Explorer plan.
Can't work out more than once or twice a week? Use the 10-class block.
No joining fees.
Consistency is key: realistically… it takes a few weeks before results show. Some of our members have had stunning transformations in the space of 6-12 months!
What are the classes like? Are there lots of buff people around? Do I need to know a lot already about machines and fitness?
Our members come in all ages, genders, sizes and levels of fitness. With consistency, many have made great strides. But you don't need any prior knowledge. You don't need to be fit either. That's what the training is for! Here is what a class is like:
You show up 5 minutes before class. We have showers and changing rooms if needed, and pigeonholes for your stuff
The coach then explains how to do the exercises and takes everybody through a warm-up of 5-10 minutes calibrated to the workout
The workout itself takes you through a circuit of about 12 stations of different exercises, with weights, bands, TRX, kettlebells and the like. You do several rounds of these exercises together with everyone else.
The coach(es) take care to correct your movements if needed, or to modify them for your fitness level.
The coach takes the class through the appropriate cooldown with stretches and relaxation exercises
That's it, in 60 minutes you had a thorough, and more importantly, a complete workout! Perhaps time for a good post-workout meal in the charming Joo Chiat neighborhood!
Can I just work out by myself without a trainer?
We offer small-group circuit training under close supervision of expert coaches, and personal one-on-one training (standard and premium with select coaches). We are not a bodybuilding or open-access gym.
How is this different from the large group training outfits?
We are an independent, partner-owned  gym, not part of any chain. Our partners work, and work out, in our own studio. We develop our own, proprietary programmes. Our group sizes are small, so our partners and coaches know you by your name and give you personal attention: correcting your movements, and modifying exercises to the level that's appropriate for you.
Programme features:
Based on principles of movement training, with multiplanar movements in all 3 dimensions
We use periodization: the programmes change according to an optimal schedule to allow for alternation of progressive overload (increasing effort) with de-loading and active recovery.
On request, we connect you to partner nutritionists, physiotherapists and wellness operators that we trust, and that trust us, often nearby in Joo Chiat.
I have injuries / prior injuries / am pregnant / post-partum / am quite a bit older already / haven't exercised in a long time…
Talk to us! Our coaches will cater to all of the above! But do let us know. It helps us adjust the programmes to you.
How do I go about trying this out?
Download the Glofox app (link and steps on our frontpage) or go to Glofox.com for all memberships. Or book a trial directly via this link… there may be a promo on right now!
The trial gives you access to one week of unlimited classes.
We partner with The Osteo SG for sports massages and osteopathic needs, and with Soma Haus for post-workout ice packages. Please inquire with us about combo packages.
And finally… Have a look at our Tribody Member Family gallery since our founding in 2018, and the video below!
WHY TRIBODY FITNESS?
What makes the Tribody experience so special?

Guidance
Small group size makes the training personal: our trainers know you personally and can modify the exercises to match your personal fitness level.

Technique
Our trainers teach you how to do the exercises properly to prevent soreness and injury. We warm you up and cool you down with no rush.
Environment
Our urban gym is just how we like it ourselves: Clean, bright, colorful, and smelling fresh.

Community
Our proprietary and precision timed workout circuits are optimally designed. A lot gets done in a short period of time – in a community of like-minded people!

Convenience
We've got the bus stop just 200m down the road. There is public parking too … for cars, or for your bicycle! And the surrounding historic Joo Chiat is just magical.
MEET OUR FOUNDERS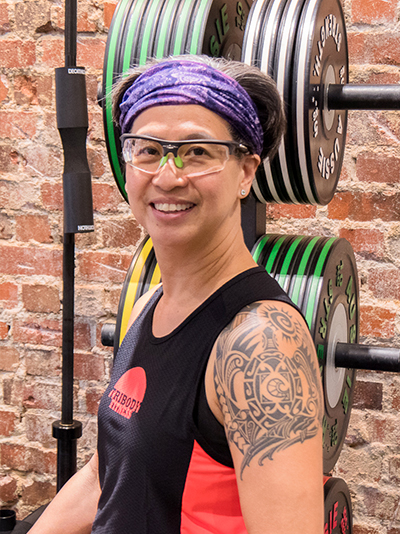 Carol
ACE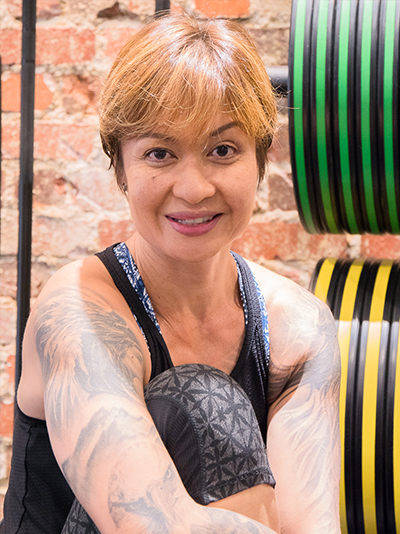 Ann
NASM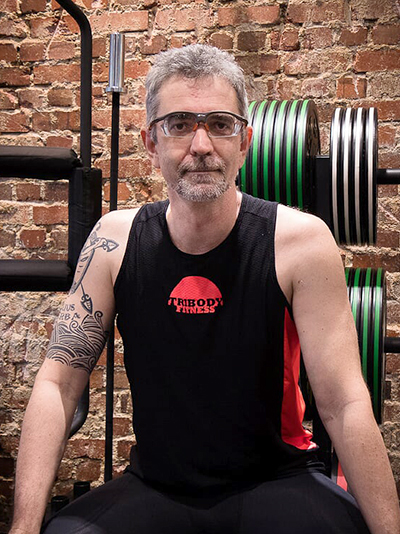 Markus
ACE
Carol Cabal
Carol used to be a professor of Economics. Then she discovered fitness in the form of triathlons. During one of her swim squad training sets with triathletes, she met co-founder Ann, who was a personal trainer and gym manager then. While training with Ann, they started plotting of opening a gym of their own. Carol quit Academia and did a StrongFirst Kettlebell course, a Functional Tools Coach workshop, became a Fitness Innovations Singapore (FITSG) Certified Exercise Instructor and ultimately, an ACE (American Council on Exercise) Certified Personal Trainer. And then she co-founded Tribody Fitness.
Carol serves as Managing Director of Tribody Fitness and assists Ann during classes. Outside of Tribody, Carol's passion for triathlon races continues.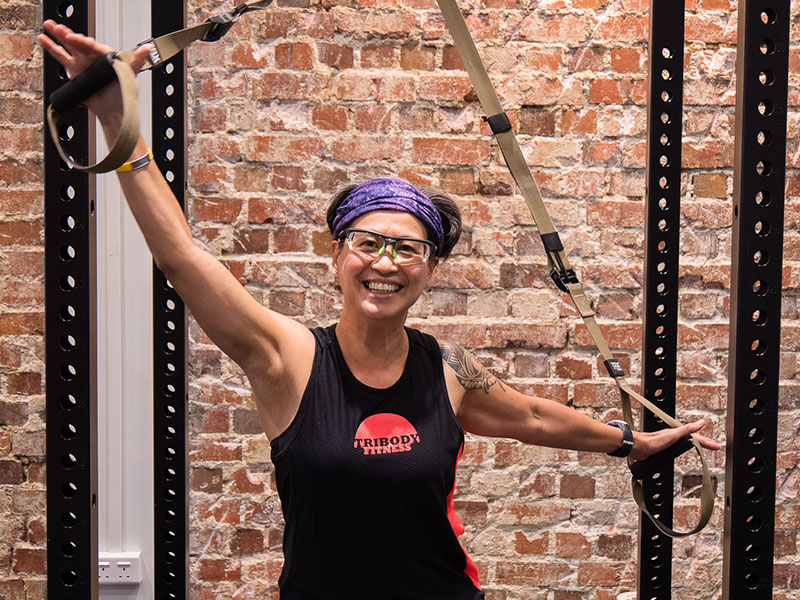 Ann-Marie Pereira
Ann has always been passionate about health and fitness and has over 20 years experience in the industry. She holds a Diploma in Sports Psychology. She practiced three years as a chiropractic assistant, and later obtained certifications in StrongFirst, Ground Force Method, TRX Suspension Training, ViPR, Svastha Yoga and sports massage. Ann is a National Academy of Sports Medicine (NASM) Certified Personal Trainer.
Ann co-founded Tribody Fitness with Carol and Markus to design group workouts with a personal touch that reflect her entire body of fitness knowledge. She uses a great variety of training methods, and has a special passion for resistance band training. Ann creates all Tribody Fitness classes and is its Head Trainer. Outside of Tribody, Ann loves spending time with her three children, cooking, and participating in multi-distance obstacle races.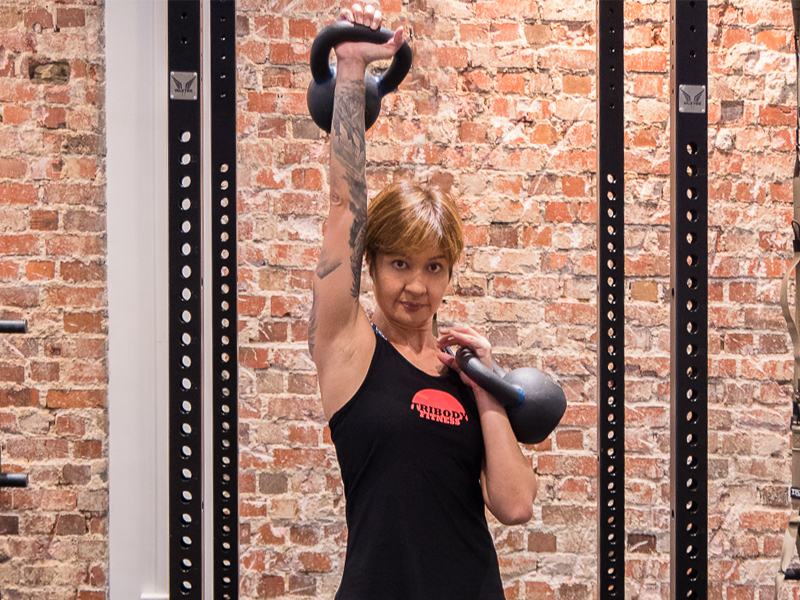 Markus Karner
Markus is the Academic Director of Executive Development at Singapore Management University (SMU). He was born in Austria but spent his teenage years in West Africa. He was a natural scientist in France, California, and Hawai'i. Markus moved to Singapore in 2001 and began teaching at SMU soon thereafter.
Like Carol, Markus came to fitness later in life. He tried his hand at HIIT, running, cycling and strength training. Markus co-founded Tribody Fitness with Ann and Carol for more fun, and more complete, scientifically designed workouts. In the process, he became an American Council on Exercise (ACE) certified personal trainer, a fat-loss coach, and a certified Sports Nutrition Specialist.
Markus still works at SMU … but he works out often at Tribody Fitness, where he is a co-investor and a director. Markus enjoys playing bass guitar, photography, woodworking, architecture and design.